BIOGRAFI SINGKAT DOSEN PASCA SARJANA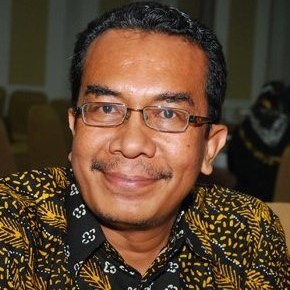 Full Name
:
Harliansyah, Ph.D
Email address
:
harliansyah.hanif @yarsi.ac.id
Academic Qualification
:

Doctor of Phylosophy on Biomedical Science, Universiti Kebangsaan Malaysia (UKM)
Master of Chemistry in Institute of Technology Bandung (ITB)
Bachelor of Chemistry in University of North Sumatera

No Phone Office
:
+62-21- 4244 574
Area of Expertise
:
Oxidative Stress and Antioxidants
Research Grants:
Yarsi Internal Grants 2020
Publications:
Rahmah, N.A., Suyatna, F.D., Kanoko, M., Rustamadji, P., Prihartono, J., Harliansyah., Harjono, S.J., Hernowo, B.S., Bustami, A. 2019. Reactivation of RASSF1A Protein and Induction Apoptosis in Breast Cancer Cells by Curcumin. Int J Recent Sci Res . Vol. 8. Issue.4 April: 1494-1499 .ISSN: 2319-7064.
Harliansyah., Fadlurrahman, A.R. 2018. Penentuan Kadar Malondialdehid (MDA) Pada Saliva Wanita Perokok Usia 26-35. PharmaMedika. Vol. 10 (2) : 78- 84. e-ISSN: 2655- 2396.
Mustaqimah, D.N., Harliansyah.,  Hannisa, M. 2018. Discoloration of Tooth Enamel due to Betel Leaf Extract (Piper betle Linn). Dentika Dental Journal.Vol. 21. No (1): 10-14
Putri, I., Harliansyah. 2018. Hubungan Durasi Paparan Gelombang Elektromagnetik Telepon Selular Terhadap Kadar Melatonin Pada Tikus Putih (Rattus norvegicus) Galur Wistar.  J. Profesi Medika. Vol. 12 (1) : 1-6.
Books:
Lippincott's Illustrated Reviews Biokimia. Edisi 6. (Alih bahasa Indonesia: Winarsi Rudiharso).  Editor:  Harliansyah, Eti Yerizel, Yahwardiah Siregar, 2014. Binarupa Aksara. Jakarta. ISBN. 978-602-238-898-2
Keseimbangan Cairan dan Elektrolit Disertai Contoh Kasus Klinik. (Alih bahasa Indonesia: Winarsi Rudiharso). Editor: Harliansyah. 2014. Binarupa Aksara. Jakarta. ISBN. 978-602-238-395-6.
Essential Biokimia Disertai Biologi Molekular dan Genetik. 5Ed. (Alih bahasa Indonesia: Winarsi Rudiharso, Andry Hartono). Editor: Harliansyah. 2013. Binarupa Aksara. Jakarta. ISBN. 978-  602-200-703-6
Conferences:
Seminar Nasional POKJANAS TOI Ke 57. Kampus Fakultas Farmasi Universitas Muhammadiyah Prof. Dr. HAMKA. Jakarta, 10-11 Oktober. 2019. Oral Presentasi.
International Conference on Antioxidant and Degenerative Diseases (ICADD). Kuala Lumpur. Malaysia. 18th- 19th July. 2018. Poster Presentation.
Pharmacy International Conference & Indonesian Society of Cancer Chemoprevention. UM-Purwakerto, 13-14 October 2017.  Oral Presentation.
19th Takeda Symposium on Bioscience. Osaka, Japan. 20-21 January 2017. Poster Presentation.
Workshop on the Bioscience of Lipids. Robert Gordon University. Aberdeen Scotland UK. 23 – 27 June 2014. Participant
Awards
The Best Researcher on Biomedical Science for Faculty of Medicine University of YARSI 2012